tags: romance, Russian movie, super hero, thriller,





Black Lightning

is a 2009 Russian

superhero film

directed by Alexandr Voitinsky and Dmitry Kiseliov, and produced by

Timur Bekmambetov

.
Plot Summary
Moscow, 2004, and wealthy entrepreneur Kuptsov drills deep beneath the city, trying to reach a huge diamond vein. Aware that his ruthless drilling will destroy the city and its denizens, it's a result he's willing to accept for untold additional wealth. Fortunately, his equipment lacks enough power. He needs the Nano-catalyst (developed years ago) to fuel his machinery, but its current whereabouts is unknown. Meanwhile, in another part of the city, college boy Dima dreams of owning a car and dating gorgeous co-ed Nastya. His wealthy friend Max has a Mercedes Benz and is flirting with Nastya, which frustrates Dima. On his birthday, Dima finally gets a car (from his parents) - a grungy, antiquated Volga of which he is privately ashamed; but, unbeknownst to anyone, the car - the recipient of "failed" Nano-catalysis - is capable of much more, and turns Dima into an unidentified crusader of justice known as Black Lightning.

Written by Claudio Carvalho, Rio de Janeiro, Brazil
I find myself watching more and more foreign language movies these days - Korean, Japanese, Thai, and most recently Russian movies are my flavors-of-the-month/s. IMHO, foreign language movies are better written and acting seems natural and not forced or sounds like actors are reading a script.
This Russian movie has all the things I like in a movie: young good-looking leads (yeah, so what if I'm ageist...who wants to watch old prune-y actors like Harrison Ford, et al?), A+ script/story/acting, baddest baddies, right amount of humor and special effects, great entertainment all the way. It has a moral to the story too. Dima acting like a spoiled brat learns from a tragic experience to be more humble, accepts what is given to him, and ends up helping people with his car's super ability. Getting the girl is icing on the cake.
I can't remember how many times I've seen this movie streamed from Netflix which unfortunately is no longer available. Amazon streams for $3 to rent and $10 to purchase. This is the first movie of Grigoriy Dobrygin I've watched that eventually launched my "Idolatry" Board on Pinterest. On the very very short DVD "Extras", the pretty actress who plays our hero's love interest jokingly lamented she only had two chances to kiss Grigoriy during filming and they were very brief "one-take" shots.
Grigoriy photos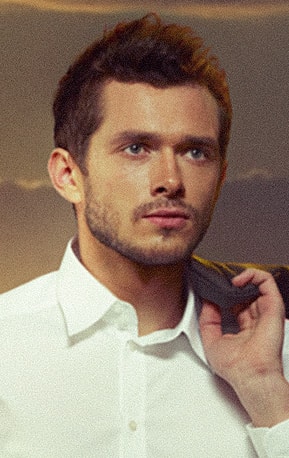 His Russian language movies currently streaming
How I Ended This Summer
- Netflix and Amazon
Atomic Ivan
- Amazon