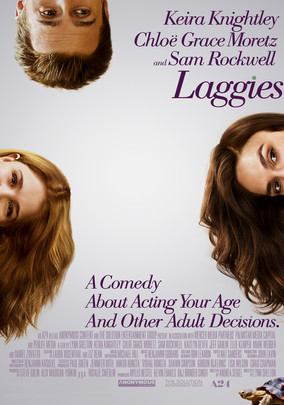 tags: comedy?!

Synopsis
Unable to decide what she wants to do for a career, Megan (Keira Knightley), 28, is stuck in a permanent state of adolescence. She still hangs out with her friends from high school and lives with her high school boyfriend, Anthony.
When her high school has a 10-year-reunion and her boyfriend surprises her with a marriage proposal, Megan panics.
She meets 16-year-old Annika (Chloë Grace Moretz) when she buys beer for the girl and her friends and feels a kinship. Megan tells Anthony she's leaving town to attend a self-help seminar, but instead, moves in with Annika and her dad (Sam Rockwell), as she decides what to do with her life.
I never learn. I should avoid chick movies specially if Keira Knightley is the main lead character. Obviously, I'm not a fan and watching her worst movies,
Domino and
Pride & Prejudice
, was self-torture to the max
.
Chloe Moretz is in it and she's the only reason I watched it. I loved Chloe as Hit Girl on
Kick-Ass
and
Let Me In
but after disappointing performances in
Hugo
and
The Equalizer
I wanted to give her a chance. Although she is okay in this horribly written shallow movie, she alone cannot save it.
It's described as comedy; I chuckled maybe once or twice but that's it. The whole movie is pointless, unfunny, immoral [IMHO because a 28-year old liar setting a bad example to high school kids is never acceptable], frustratingly predictable, and the script is so vapid.
I do not recommend it. I watched so you don't have to but if you like self-inflicted suffering, go ahead and see for yourself.