This is a review of the movie Guardians of the Galaxy plus a shout-out to the theater Alamo Drafthouse Cinema in my city of Ashburn, VA.
I was planning to just preorder the 3D Blu-ray as soon as it becomes available because w
e rarely go to the cinema but this movie and the venue are hard to resist.
Guardians of the Galaxy





Visuals, acting, special effects, CGI, cinematography, music are tops. The movie has plenty of action, one liners, and laughs without being cheesy. It is pure fun which is the reason we go to the movies - to be entertained. Leave your disbelief at the door and you'll enjoy the ride. Groot and Drax are my favorite characters but Rocket grew on me quickly. It's a delight to see a small creature using large weapons and maneuvering a fighter plane with great accuracy and zeal.
Alamo Drafthouse Cinema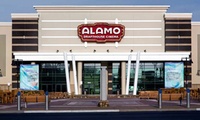 Alamo Drafthouse Cinema, which is a few minutes drive from my house, feels like a restaurant showing movies instead of the other way around. We got our tickets from the vending machine just outside the door to the lobby. It has a simple chart of the seating arrangements so that one can choose preferred seats. The tickets say to go inside 30 minutes before screening time to be able to order food if we intend to. Which we did. There is a long ledge/table in front of the seats stretching the row of seats from end to end. Under the table are slots to stow the menu cards and tiny light bulbs to assist in reading the menu. It was a tad dark; our cellphone assistive lights helped. We didn't get the bottomless popcorn; I ordered Coke and the yummy Loaded Fries which are fat and crispy and topped with crispy bacon, cheese, sriracha sauce, sliced jalape
ño
, and chopped cilantro. Really really delicious! My husband got the personal size pizza and a glass of beer. The pizza was also good. The staff are polite and not intrusive when checking if the payment is ready to be picked up. While waiting for the movie to start, clips of classic and cheesy sci-fi movies and TV shows play alternately with videos of raccoons which IMHO is preferable to the usual endless loud commercials.
The theater doesn't smell strongly of food, is very clean, and the seats are big enough and comfy.
Overall it was a fun experience at the cinema. Great movie, great food, no loud chattering, no cell phones, no small kids running around the cinema. (I think children are allowed at a certain time of the day.)
If you have Alamo Drafthouse
Cinema in your area, check it out and you're more likely to enjoy watching movies there compared to a regular movie theater.
from Wikipedia
Alamo Drafthouse is famous for enforcing a strict policy on behavior while in the theater. Children under the age of six are not allowed, nor are unaccompanied minors. The cinema also prohibits talking and texting during the film. Anyone who violates this policy is subject to warning and potential removal from the premises.

Alamo made national headlines in 2011 when the rantings of one angry customer who was ejected for texting were included in its "Don't Talk or Text" PSA shown before films. "When we adopted our strict no talking policy back in 1997 we knew we were going to alienate some of our patrons," Tim League posted on the cinema's website. "That was the plan. If you can't change your behavior and be quiet (or unilluminated) during a movie, then we don't want you at our venue."